[M16C/6N CAN/LIN Gateway], a simple solution for evaluating your CAN and LIN communications has just been released.

[M16C/6N CAN/LIN Gateway] is an evaluation package for CAN and LIN communications, including items such as CAN/LIN Gateway board, compiler debugger, and LIN evaluation program.
---
Features
Ideal for evaluating CAN communication and LIN communication
CAN transceiver and LIN driver are mounted, which makes this product ideal for creating and evaluating CAN evaluation system or LIN master evaluation system.

Complete Hardware
Renesas Technology's Built-in Flash Memory Microcomputer [M16C/6N4(M306N4FGTFP)] is packaged.
With the included flash memory programming software (Flash Starter, manufactured by Renesas Technology), you can operate your program by programming it into the built-in flash memory of M16C/6N4 on the CAN/LIN gateway board.
The mounted ISO11898 compliant CAN transceiver (PHILIPS' PCA82C250T) enables the connection from CAN connecting terminal to the CAN bus.
LIN driver is mounted which enables the connection between LIN connecting terminal and the LIN bus.
8-bit multi-purpose dip switch, multi-purpose LED x 8, and INT interrupter switches x 2 are mounted.
Using its expansion port area and multi-purpose universal area, you can design and construct your own circuit.

Excellent Program Developing Environment
Included in the product package are software tools such as C-compiler/assembler (Renesas Technology's NC30WA Entry Version), remote debugger (Renesas Technology's KD30), and flash memory programming software, which enables you to develop application programs and start debugging upon receiving the product.
With the flash memory programming software (Renesas Technology's Flash Starter), you can operate your program through programming it to the M16C/6N4 built-in flash memory on the CAN/LIN gateway board.

Combination with the S810-LSB2 enables easy LIN communications demonstrations!
LIN demonstration system can be built easily with the attached LIN evaluation program by connecting CAN/LIN gateway board [S810-CLG2] and one or more LIN slave board(s) [S810-LSB2] that is(are) sold separately.
* [S810-LSB2] LIN slave board shown at the bottom of the picture below is not included in the package.
---
Specifications
Product Model: S810-CLG2
PC I/F: RS-232C
CAN/LIN Gateway board power source: DC 12V
Main components: CAN/LIN Gateway board, PC connecting cable, DC input cable, Compiler, Debugger, Software for flash programming, Evaluation program supporting LIN slave board [S810-LSB2], Instruction manual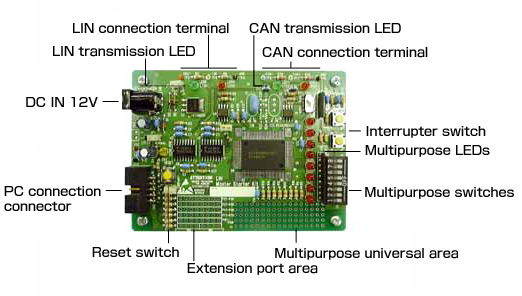 All product names are trademarks or registered trademarks of the company to which that product belongs.
Contents of this site are subject to change without notice.

---
Notice
This product is sold only in Japan, and orders and inquiries from overseas customers are not accepted.